The Lazers Have It Forever
lazer.forever
It's no secret that we here at Dinosaur in Trouble
gots mad cred
. Seriously, our opinions are highly regarded and virtually indisputable. But we're not naïve; we realize that somewhere in this world there might exist a hater or two. Well, here's our message to all the haters out there: if you've never believed a thing we've said, and if you think we'll never say anything of worth…fine. But before you pass us off completely, we ask you to trust our judgment on just this one thing: the best music being made in the Twin Cities right now is coming from two brand-new, closely related bands –
lazer.forever
and
The Haves Have It
. If that's the only counsel from Dinosaur in Trouble that you ever take to heart, you'll get along in life just fine.
You know what's awesome? Lazer.forever
and
The Haves Have It just played a show together last Thursday at the
Triple Rock
opening for
Clair de Lune
. I dare you to find a more solid lineup than that!
Lazer.forever
wowed us with their pretty harmonies, dancy guitars, and violent drumming. Their set was so exciting that I was finding it hard to keep my pants on. Thankfully, I kept myself in check. (However, in an effort to stalk the boys from lazer.forever, I followed them to a party last night. At the party, they dropped jaws by delivering an
even more
impressive performance. My pants were just about to come off when the police shut the party down. Oh well, maybe next time.)
...and ever and ever
Dustin of lazer.forever (doubles as the drummer for The Haves Have It!)
Clint and Adam of lazer.forever
And then the band of the year:
The Haves Have It
. You have to see them to believe them. Incredible! This show marked a new high for them (which, if you've seen any of their other shows, is ridiculously high). I don't think I've ever pounded my fist in the air with that intensity. Hell yeah!
The Haves Have It
Portia of The Haves Have It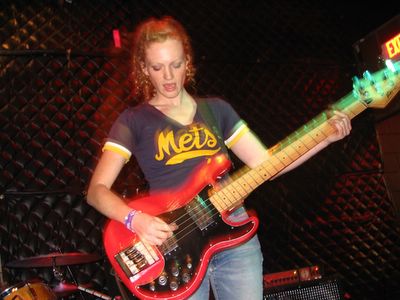 Jenn of The Haves Have It
I was fully energized and ready to jam out to
Clair de Lune
, but then I remembered that I needed to wake up at 5:00 the next morning. So I stuck around for two of their songs – which sounded great – and then headed home. When I reluctantly woke up the next morning, I wondered why several buttons were missing from my pants.
Archives:
The Haves Have It @ The Triple Rock: August 12, 2005
The Haves Have It @ The 7th Street Entry: July 9, 2005
The Haves Have It and lazer.forever @ house party: May 21, 2005