Dino Porno #2: Maudlin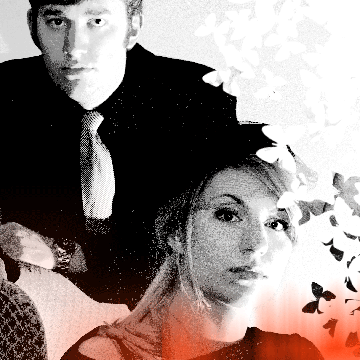 Mp3.com used to be so cool. Back before the RIAA effectively extinguished the dazzling potential for free online music distribution, I used to spend hours upon hours surfing mp3.com for obscure nuggets. It was such a happy community – everyone and their dog had at least one song on mp3.com. I could do a search for "Minnesota music," and hundreds of local artists would pop up, kindly offering me handfuls of free mp3s.
Sure, there was a lot of crap to sift through: embarrassing jam bands,
Maynard James Keenan
worshippers, "emo" bands who had never even heard of
Sunny Day Real Estate
, and the worst…high school third-wave ska bands…ugh. But every once in a while, I'd make a discovery that would completely validate the hours spent searching.
I struck gold when I stumbled upon
Maudlin
's mp3 for "Dancecaster." The song, which could easily pass for a
Pixies
-era Kim Deal composition, immediately rose to the top of my esteemed playlists. I was already singing along by the second listen; by the third, I was officially addicted.
It wasn't long before I started craving more Maudlin. So I did what any good supporter of local music would do: I went to a show. At the show, I discovered (as did the other three audience members) that Maudlin had much more to offer beyond "Dancecaster."
With a great live set, and talks of an album, things were starting to get exciting.
But then Maudlin disappeared from my sights. Was this the end? Was Maudlin to be written off as a mysterious one-"hit"-wonder? Nope. Maudlin vanished into thin air only to re-emerge last year in…Canada?
Yeah, last year, Maudlin's debut album,
The Penitent Never Regret,
was released in Canada via a small Canadian label. Although they still resided in St. Paul, Maudlin forwent playing local shows in favor of touring Canada in support of their album. Earlier this year, however, their record label folded, and Maudlin was forced to fend for themselves.
So where does this leave Maudlin? Right here in the Twin Cities! It's been a few years since I last saw them, but that will soon change with the slew of long-awaited local gigs they've recently booked. The first will be this Friday (August 26, 2005) at the "used-to-be-unbearably-stinky-but-now- it's-not-so-bad-thanks-to-the-smoking-ban"
Terminal Bar
.
What better way to welcome this great news than to feature Maudlin in this week's Dino Porno! And what better song to feature than the one that got me hooked. Maudlin – now consisting of husband and wife, David and Priscilla Priebe, and drummer Mark-John – rerecorded "Dancecaster" for
The Penitent Never Regret
. The newer version is louder, faster, and more assertive, but lacks the original's lo-fi appeal and lead guitar work provided by former member Josh Lauer (who may again be working with the band in the near future). The song available below is the original version that I found on the old mp3.com. I think it'll have a happier home here – I don't see any multimillion-dollar lawsuits or buyouts in Dinosaur in Trouble's immediate future.
FREE MP3 DOWNLOAD:
Maudlin - Dancecaster