Smog Ain't Too Much to Love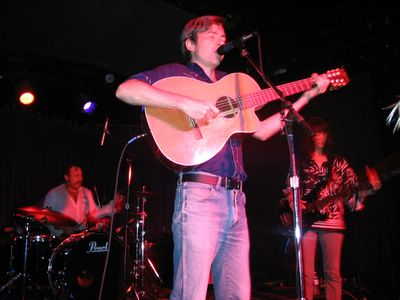 Jim White, Bill Callahan, and Colleen Burke of Smog
Bill Callahan's
Smog
has been a vital force in the world of lo-fi indie rock for the past 15 years. So it's a damn shame that I waited so long to write about Smog's August 23rd show at the
400 Bar
. A show of that caliber deserves a detailed review in Dinosaur in Trouble. Alas, it's too late now. You're all gonna have to settle for a brief description so I can move on to writing brief descriptions of the other five shows I've neglected.
Mason Jennings
' little brother,
Matt Jennings
, opened the show. I wish I could say his performance was spectacular, but it was just a guy with an acoustic guitar who sounded like Mason Jennings – something that can be found at any college dorm party. Perhaps I'm being unfair. Apparently, Matt taught Mason how to play guitar. So maybe it's Mason who sounds like Matt.
Smog; now there's a different story. Spectacular for sure (trust me, beautifully executed subtlety can be referred to as spectacular). Live, the mostly acoustic songs of Smog's excellent new album,
A River Ain't Too Much to Love
, were beefed up with a full backing band. Jason Dezember provided some color on his electric guitar while
We Ragazzi
's Colleen Burke held the low end. But Bill Callahan's undisputed costar for the night was the one and only Jim White (the drummer from Australia's
Dirty Three
). Jim's drumming style is so loose that I'd describe him as a rag doll, if I didn't already decide to describe him as the long-lost third Super Mario Brother. I felt the urge to close my eyes and get lost in the music, but that would mean that I'd miss out on Jim White's ultra unique showmanship. My eyes remained wide open.