Ward 2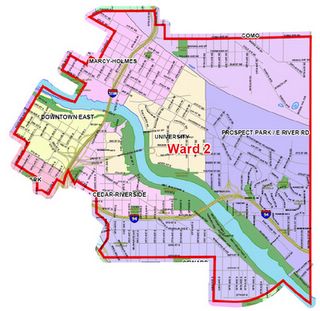 (note: Ward 2 has been redistricted for 2006. The old boundaries are shown above.)
With two college campuses and neighborhoods like Seward and Prospect Park, Ward 2 of Minneapolis is one of the most progressive areas in the country. It's great to know that I live in such a friendly environment, but it can also create some major dilemmas during the citywide election season. The problem: it is way too difficult to choose a favorite among the city council candidates; they're all so good. I just got back from my precinct caucus, and I still have no idea who I want to win the DFL endorsement. Hell, I can't even decide between
RT Rybak
and
Peter McLaughlin
for mayor.
I am such an opinionated person, and it drives me crazy when I can't make up my mind about something. But I guess that's a good thing. Sometimes an easy decision indicates sub-par choices. For instance, consider the 2004 presidential race. John Kerry was an easy choice only because George W. Bush was/is a complete fucker. But that doesn't mean that Kerry was a
good
choice; he's only better by comparison. (Actually, it
was
tough to decide between Ralph Nader and Kerry, but that was for a different reason. Nader was, by far, the best candidate, but a vote for Kerry was a bit more strategic. By the way, when voting requires a strategy, you're no longer voting based on who best represents you; thus, democracy isn't really working.)
Anyway, the three DFL candidates for Ward 2 City Council – the accomplished activists, Bill Svrluga and Cara Letofsky, and the U of M student, Dan Miller – are all
great
choices. I'll be pleased with whoever gets the endorsement. But the difficult choices won't stop there. Whoever wins the DFL endorsement will have to run against the excellent Green Party candidate, Cam Gordon, in the general election. I have no idea what I'm going to do. At least I can be assured that Ward 2 will be well-represented, no matter who ends up winning.
In the meantime, I've been trying to be as educated about the candidates as possible. I heard all of the DFLers (including RT Rybak) speak tonight at the caucus. And last week, I got to be up-close-and-personal with the candidates during a concert that my friend organized called "Rock the Cauc" (in case you didn't get it, cauc is short for caucus). The candidates (including Peter McLaughlin) all gave a short speech before the pop-punk bands,
Five Stars For Failure
and
Chop Logic
, took the "stage" at the Manhattan Loft.
In other news, I got to see my sister play hockey in
Ridder Arena
this weekend.
St. Olaf
(my sister's team) creamed St. Kates, 7 to 0. And Kate (my sister, not the saint) scored a goal! It was a good way for them to finish the season. Kinda sad, though - Kate is a senior, so that was her last regular season game. But chin up; playoffs start this Thursday!
Kate is in there somewhere (note: this picture was taken the night before in Northfield)