You Can Be the President, I'd Rather Be the Pope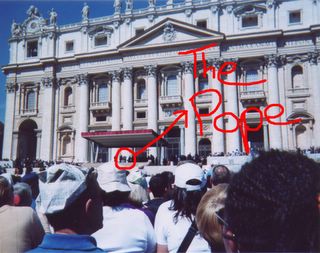 The Pope addresses the masses in front of St. Peter's Basilica last summer.
I didn't get a chance to see
Guitar Wolf
before their bassist, Billy, died. But if it's any consolation, I did see
Pope John Paul II
before he passed away. Yeah, last summer, while I was hanging out in Europe, I woke up early one Wednesday morning to go to a blessing by the Pope (when in Rome…). Sad, sad, sad.
So, does this mean we can use condoms now?