RIP, Basswolf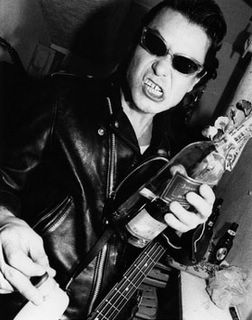 Sad news for punk rockers around the world. Billy (né Hideaki Sekiguchi), the bass player from
Guitar Wolf
, died Wednesday of a heart attack.
For many of us, Guitar Wolf was the face of Japanese punk rock. Billy and his band mates were largely responsible for piquing American interest in Japanese punk. Guitar Wolf's influence was obvious to anyone who attended this year's
SXSW
. The Japanese presence at the festival received about as much hype as the British buzz bands like
Bloc Party
and
The Go! Team
. The "Japanese Nite" showcases were widely talked about, and impossible to get into. Many of the hyped-up Japanese bands borrowed liberally from Guitar Wolf's formula of loud, fast garage punk and crazy-go-nuts stage shows.
Guitar Wolf, themselves, played a headlining slot at the festival. You should have seen the line to get into that show! Kirsten and I actually got into the venue (and we met
Craig Finn
while standing in line), but we left a couple hours before Guitar Wolf played to see some other bands (with the intent of coming back later). Unfortunately, we weren't able to get back in (so we went next door and saw
Shonen Knife
instead – I'm telling you, Japan was very well represented). If I only knew…
Billy died at the age of 38, but his impact on the world of punk is still very much alive, and his music will continue breathing for many years to come.